Associated Domains
write us a review
Please feel free to rate any of our products or services. Your opinion matters to us.
Sub Categories For Denim Shirts
Looking for a nice denim shirt? Don't know where else to look? Well stop thinking and start doing! Giftwrap offers one of its very famous denim shirts, the men's denim shirt. This is a shirt that is enzyme washed so it will naturally be clean and sharp. Moreover, it is made out of 100 percent cotton so you can be sure that it will be very comfortable to wear. In addition, the shirt has a double button cuff that adds to its overall ease and wear of use. The shirt has other advanced features that it comes with including a double layer drop shoulder yoke, a back box pleat and a front patch pocket that will all be used in order to improve the look of the shirt. Denim is back in fashion and for anyone who needs a nice denim shirt of two, the one at Giftwrap is a great find. This shirt is durable and is sturdy so it can withstand wear and tear. Get one of the denim shirts at Giftwrap and you will not be disappointed with the results. The best thing is that with all its incredible features, its amazing to wear as well!
Men's Denim Shirt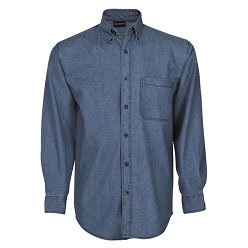 Minimum Quantity
Turnaround Time
Customisations
Colours Available
R 367.82 each*
Enzyme washed 100% cotton Denim Shirt for men; double button cuff; button-through gauntlet; double layer drop-shoulder yoke; back box pleat and front patch pocket; double-needle top stitching; constru....